Meet Pineapple, Animal Ambassador
---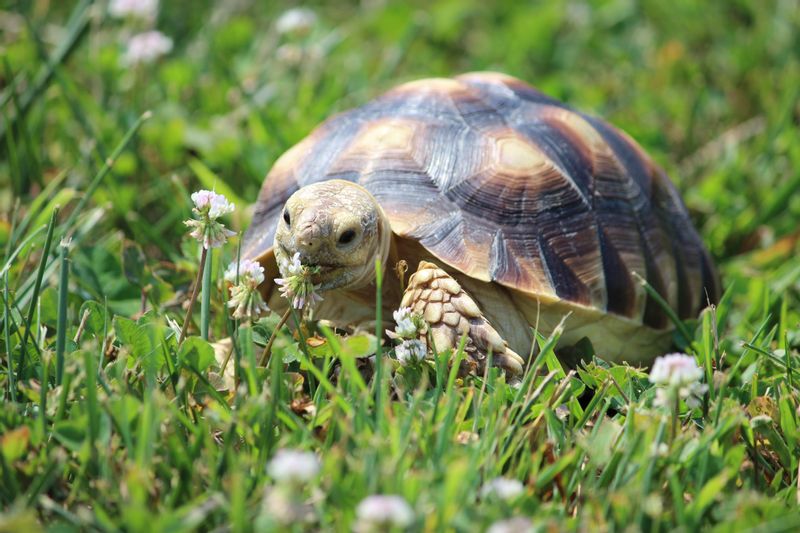 Meet Pineapple, Animal Ambassador here at Rescue Ranch.
Pineapple is our hurricanes (yes, multiple) survivor! She was hatched in August of 2016, shortly before Hurricane Matthew made landfall in North Carolina. Unfortunately, many of her hatch mates perished in the floodings. Once things cleared up, Pineapple was adopted by a family that adored her. Two years later, this family's home was struck by Hurricane Florence and they devastatingly lost their home in the flooding. Through circumstances at no fault of their own, they were forced to rehome Pineapple. Luckily, we were able to bring her in and give her a forever home.
When Pineapple first came to us, she could fit in the palm of your hand and was quite shy. Now, she weighs almost ten pounds and has come out of her shell, bursting with personality! She enjoys spending her days basking in the warm sun and eating every blade of grass that she comes across.
All of our animals have a story to tell. Read about more of our animal ambassadors here.
Plan your visit to meet Pineapple:

Here at Rescue Ranch, we believe learning, inspiration, hope and exploration are the keys to enhance the human bond and respect with all animals.

Since 2012, Rescue Ranch has grown to one of the premier animal education centers of its kind. Reaching thousands of children in North Carolina and beyond.

Our 10,000 square foot inclusive playground allows children of all abilities to play TOGETHER! Plan your visit to Rescue Ranch today!

Check out information on Group and Private Guided Tours here.
---