Spring Break Critter Camp at Rescue Ranch
Come celebrate our Critters this spring during our Rescue Ranch Critter Celebration spring break camp!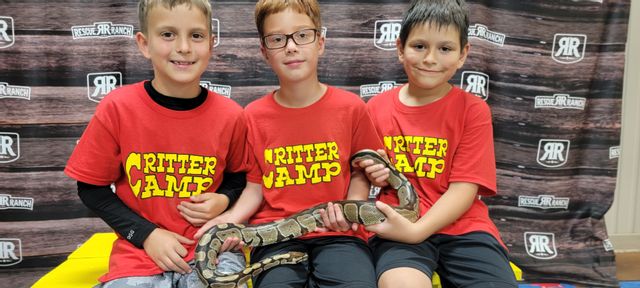 Description
The 2023 Spring Break Critter Camp here at Rescue Ranch will be March 6 - 10, 2023. We will celebrate all critters through education, stem activities, crafts, and more!
Registration opens January 27, 2023 and closes on March 1, 2023
Camp Dates: March 6 - 10, 2023
Times: 9am - 4pm
Kindergarten - 5th Graders
Cost: $210 for all 5 days, $45 daily registration
$10 off if registering siblings
Rescue Ranch Critter Camps are designed to be a fun, educational camp experience for children who love animals. All camps involve daily interaction with animals, games, crafts, STEM activities, and our 10,000 sq ft inclusive playground. Campers will learn how to care for animals, provide enrichment, and to promote humane animal care to others.
Click HERE to register.

Rescue Ranch
1424 Turnersburg Hwy., Statesville, NC 28625
9:00 AM EST
to 4:00 PM EST
Private:No
RSVP Required:Yes
Accept Registration Online:No