Coffee with Critters is this Friday
---
As seen on WCNC
CHARLOTTE, N.C. — Rescue Ranch's "Coffee with Critters" is coming up this Friday!
This morning we were joined by Leslie Smith, to learn more about the event, camps they have coming up, and animals you can meet at the ranch.
In addition, and weather depending, campers will explore the Ranch's walking trails and have access to the 10,000 square foot inclusive Earnhardt Family Playground. Assisting with each camp session are Rescue Ranch's over 80 permanent residents and animal ambassadors that include steer, lambs, goats, turkeys, miniature horses, potbellied pigs, a variety of parrots, ferrets, rabbits, snakes, lizards, tortoises and more.
We are so excited about the events and programming at Rescue Ranch. On this morning's show, Smith brought along some of our ambassadors who will be involved: two Rabbits (Graham Cracker and Stella), and a unique Kenyan sand boa named "Pepper." The events at the ranch, are designed to help guests become familiar with and interact with their animal ambassadors.
Coffee with Critters
Rescue Ranch will host Coffee with Critters Friday, February 24 from 8 a.m. - 10 a.m. This drop-in, free community breakfast will introduce folks to a few of the more than 80 animal ambassadors and share how these permanent residents assist in weekly programing. In addition, staff will share the nonprofit's plans for 2023.
Spring Break Camp
Critter Camps are designed to be fun, educational camp experiences for children who love animals. All camps involve daily interaction with animals, games, crafts and STEM activities. Campers will learn how to care for animals, provide enrichment, and to promote humane animal care to others.

For kindergarten through fifth-grade students, the spring break session is available from 9am to 4pm. The cost is $45 per day or $210 per child, per week, March 6-10. To register for the Spring Break Critter Camp, visit rescueranch.com.
Watch the full Charlotte Today interview here.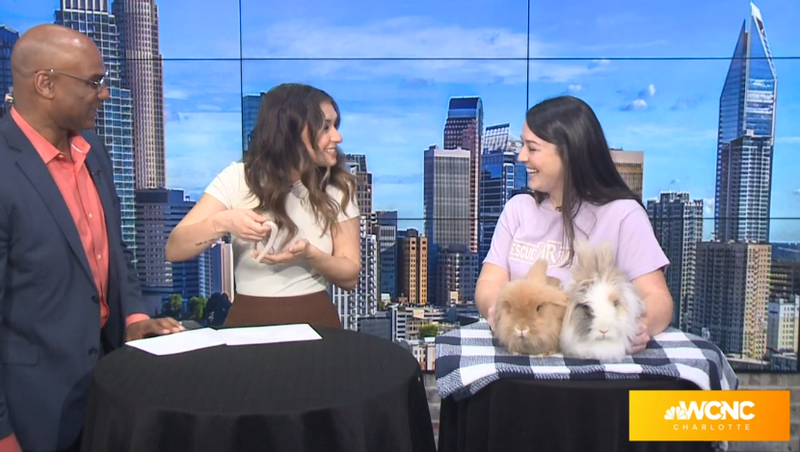 About Rescue Ranch:
Rescue Ranch is a nonprofit animal welfare organization founded by Krissie Newman and NASCAR driver Ryan Newman. The 87-acre facility offers school, Scout and camp programs, birthday parties and private tours, which promote humane education through hands-on learning. Rescue Ranch is located in Statesville, North Carolina - less than an hour from Winston-Salem, Charlotte and Hickory.
Learn more about Rescue Ranch here.
---