Meet Velvet, Animal Ambassador
---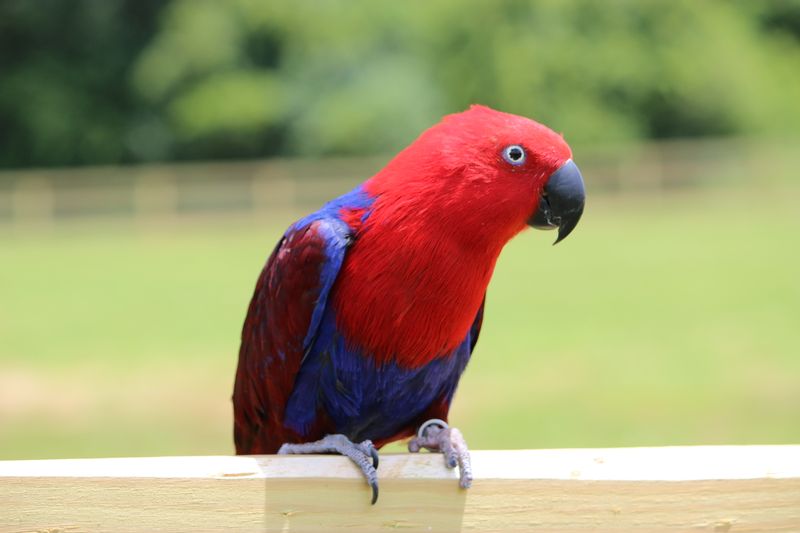 Meet Velvet, Animal Ambassador here at Rescue Ranch.
Velvet is a Solomon Island Eclectus Parrot who hatched on 1/13/06 and has been an ambassador at the Ranch since 12/11/13. Velvet came from a family who, unfortunately, had to rehome several dozen birds due to an illness in the family. Luckily for Velvet, she was intercepted from being sold at a flea market and will live out her life with us here at the Ranch.

Her striking coloration is quick to grab the attention of any guest that comes through our doors! She is quiet, calm and is quick to make a friend with those who share similar qualities. Velvet is happiest when she gets to hang out with her favorite people or when she receives an almond for a treat!
All of our animals have a story to tell. Read about more of our animal ambassadors here.
Plan your visit to meet Velvet:
Here at Rescue Ranch, we believe learning, inspiration, hope and exploration are the keys to enhance the human bond and respect with all animals.
Since 2012, Rescue Ranch has grown to one of the premier animal education centers of its kind. Reaching thousands of children in North Carolina and beyond.
Our 10,000 square foot inclusive playground allows children of all abilities to play TOGETHER! Plan your visit to Rescue Ranch today!
Check out information on Group and Private Guided Tours here.
---