Meet Kiwi, Animal Ambassador
---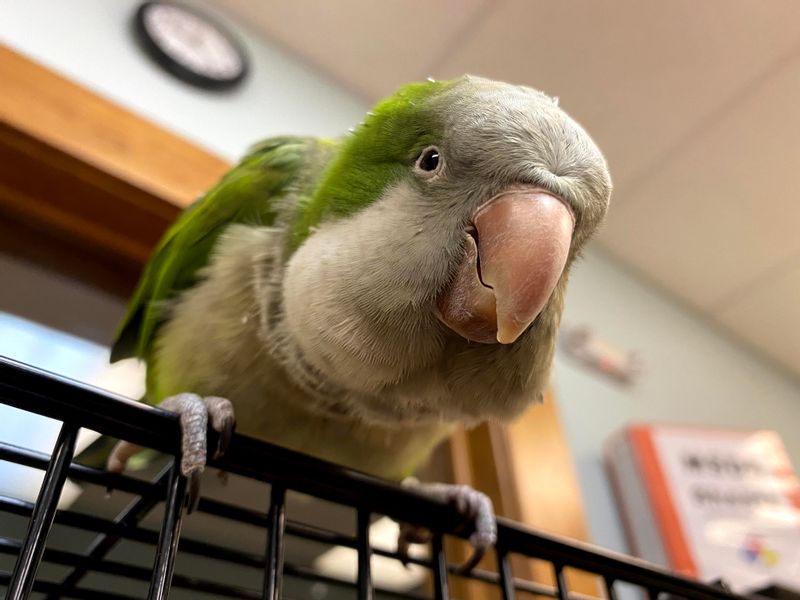 Meet Kiwi, Animal Ambassador here at Rescue Ranch.
Our little green monster, Kiwi, is a crowd favorite! Kiwi, a Quaker Parrot, came to us in August of 2017 from a hoarding situation where he was one of dozens of animals being surrendered. When Kiwi came to the Ranch, he was nervous, territorial and untrusting of people. With patience, love and a lot of treats, we were able to work with Kiwi to gain his trust.
Now, Kiwi enjoys hanging out on top of his enclosure watching us work, chirping into bells that hang from his toys and taking baths in the sink. One of our absolute favorite things about Kiwi is how he laughs. He has a genuine, deep belly laugh, that is infectious. He will laugh alongside you when things are funny, and he will laugh AT you when he thinks things are funny!

All of our animals have a story to tell! Read more about our animal ambassadors here.
Plan your visit to meet Kiwi:
Here at Rescue Ranch, we believe learning, inspiration, hope and exploration are the keys to enhance the human bond and respect with all animals.
Since 2012, Rescue Ranch has grown to one of the premier animal education centers of its kind. Reaching thousands of children in North Carolina and beyond.
Our 10,000 square foot inclusive playground allows children of all abilities to play TOGETHER! Plan your visit to Rescue Ranch today!
Check out information on Group and Private Guided Tours here.
---